Air Duct Cleaning Houston TX
Air Duct Cleaning Services In Houston, Texas
Is air duct cleaning really a necessity that you should consider? This is one of the questions that have puzzled a lot of residents living in Houston, Texas. But to put it in simple terms, air duct cleaning is an important exercise that should not be ignored at all. Sadly, a lot of people don't actually believe that air duct cleaning is necessary. Cleaning your air duct is highly recommended especially if you have a couple of indoor pets or somewhat sensitive to air quality. We at Texas Pros Dryer Vent Cleaning Houston TX understand the importance of having clean air ducts and that's why we recommend you to consider keeping yours clean.
Importance of Having Your Air Duct Clean in Houston, TX
There are a number of reasons as to why you need to have your air duct clean. With a clean air duct in place, you have a huge chance of maintaining good air quality around your home or business premises. Having your air duct clean will significantly improve air quality around your home while ensuring that the air that you breathe is free of airborne particles.
Are you aware that a clean air duct can significantly boost energy efficiency around your home? Debris and dust restrict the flow of air from and to the components of your HVAC system, and in the event that the ducts get clogged, you'll have a condition where the furnace or air conditioner consumes a lot of energy to carry out its job effectively. By keeping your air duct clean, you will ensure that your units will perform efficiently.
Clean air ducts also protect cooling and heating equipment. If you have a dirty ventilation system in place, you will definitely encounter clogged air conditioners, cases of contaminated blower wheels, and a lot of issues that result in expensive repairs. But if you make duct cleaning a huge part of your scheduled routines, you will most likely extend the life of your HVAC system.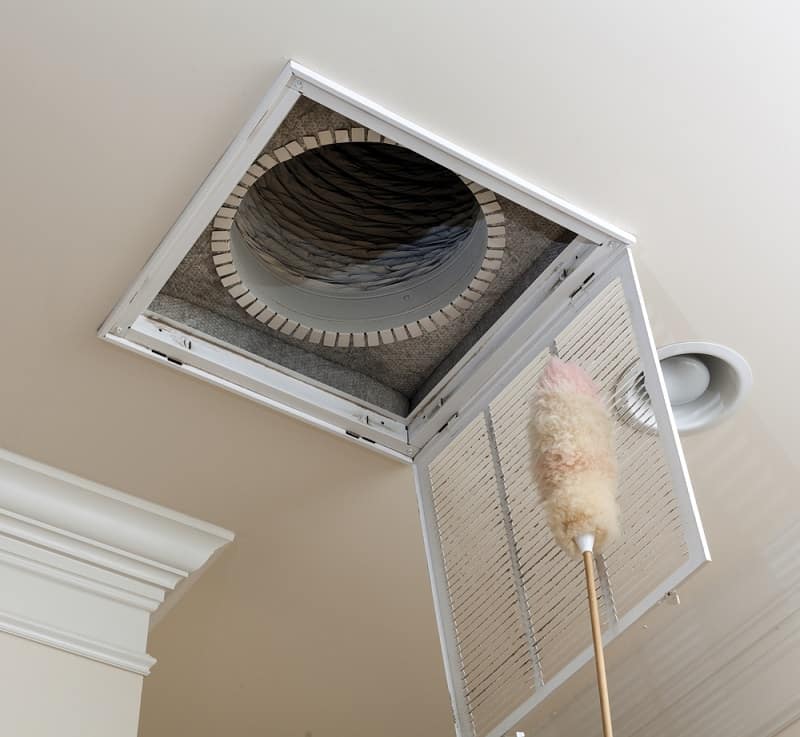 Why Choose Us for Your Air Duct Cleaning Needs?
Conducting duct cleaning is not an easy exercise as it may seem. This is one of the most tasking activities that need to be handled by professionals. Why Choose Texas Pros Dryer Vent Cleaning Houston TX? The reasons are pretty simple. We have the right tools and equipment for the job. Apart from other tools and equipment, we have in possession a track-mounted compression and vacuum system ready to clean your duct within the shortest time possible.
Apart from having the right tools for the job, we have sufficient experience in air duct cleaning in Houston, TX. Why would you want to deal with inexperienced companies that will definitely leave you with unpleasant experience once they complete cleaning your air duct? With us, rest assured that you will be dealing with professionals with years of experience in duct cleaning coupled with proven track record when it comes to duct cleaning.
We are fully registered and licensed to operate. We have managed to establish a positive reputation across Houston, Texas that is backed by thousands of positive client reviews both online and by the word of mouth. With us, you will be working with honest professionals who will leave you impressed once the job is complete.
Texas Pros Dryer Vent Cleaning Houston TX value our customers a lot and that is why we offer excelent client support. If you have emergencies regarding air duct cleaning solutions, feel free to call us anytime for assistance. Better yet, our prices should not scare you as we have the most competitive prices across the industry.
Other Services
We at Texas Pros Dryer Vent Cleaning Houston TX offer a diverse of cleaning services to your satisfaction. We do not focus on air duct cleaning only. Other services that we offer include:
Dryer vent cleaning – We clean dryer vents so as to ensure that you don't have to put up with clothes that are wet
Upholstery cleaning – Are you having a large party coming up soon? We can assist you with cutlery cleaning with a lot of ease.
Carpet and mattress cleaning – We can also help you in cleaning your carpet, mattress, and other beddings within the shortest time possible without compromising on quality.